Rise launched our LA2050 challenge to end college student hunger and homelessness in Los Angeles in 2019 because of the overwhelming number of students struggling with basic needs in our community. According to research from the Hope Center for College , Community, and Justice found that half of Los Angeles Community College students experience food insecurity, and one in five experienced homelessness in the past year. Our student-led campaigns are bringing urgency to these issues and demanding colleges take action to address these problems that are standing in the way of their students' ability to stay in school and graduate. As the spread of COVID-19 disrupted students' ability to attend classes on campus, it also exacerbated the basic needs crisis and therefore the need for these programs.
Check out more about our approach and progress below.
To get in touch to learn more about our LA2050 work, please reach out to [email protected]. For email updates on how you can support our LA2050 Challenge Grant application to continue our work into the '20-'21 school year, sign up here.
I had no idea the extent to which student hunger affected my campus before I became a fellow at Rise. Learning about some of our students' stories was an extremely important, eye-opening experience for me and one that has changed my understanding about the effects and impact of student hunger on college campuses forever.
Rise LA2050 Student Organizing Fellow, '19 – '20
---
I: IDEATION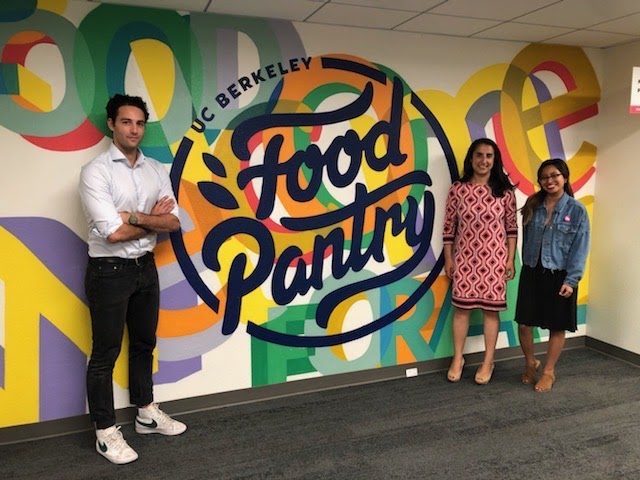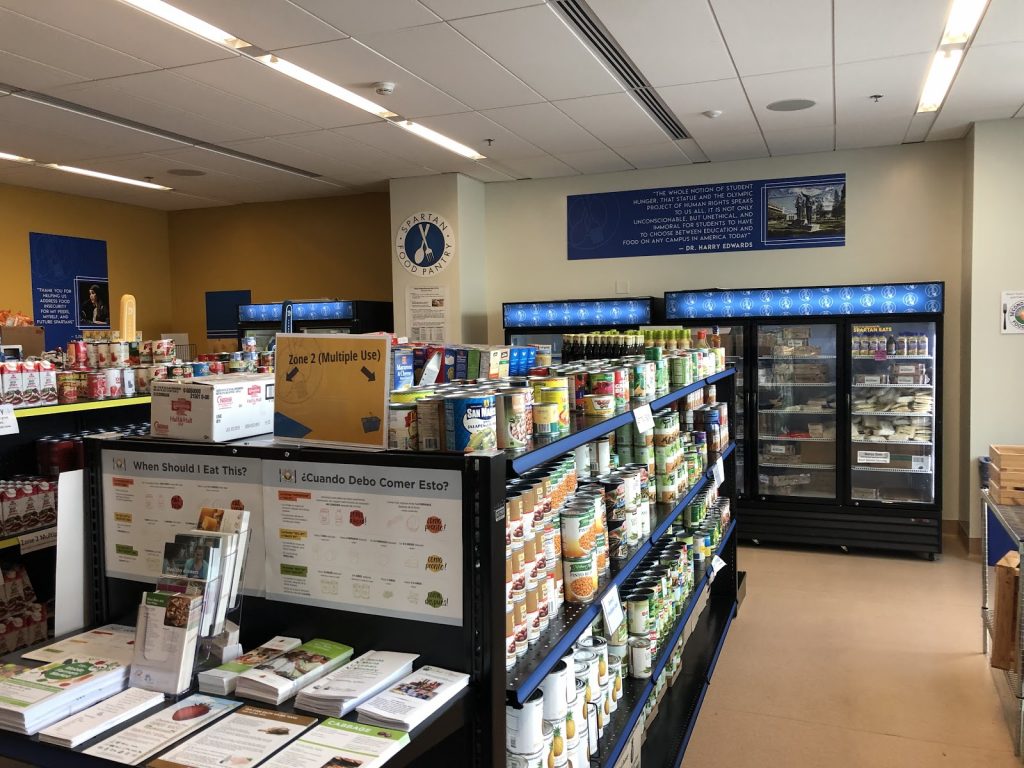 Picture 1: Max Lubin (CEO), Nadya Chinoy Dabby (Board Member), and Emelia Martinez at UC Berkeley's Food Pantry during the Basic Needs Roadtrip.
Picture 2: Spartan Food Pantry at San Jose State University
After winning the LA2050 Grants Challenge in June 2019, we ventured out on a Basic Needs Roadtrip. We visited 10 community colleges and universities to learn from basic needs programs across California The findings from our road trip can be found here. We also conducted a Los Angeles Basic Needs Landscape Analysis to understand the local needs of our Los Angeles community.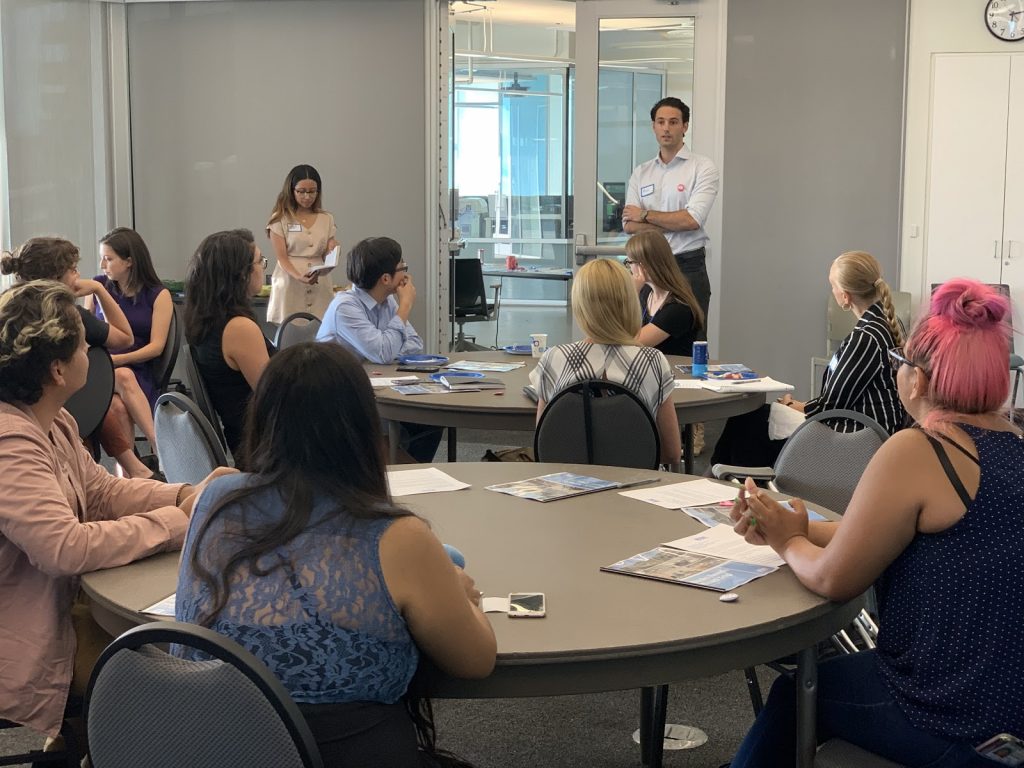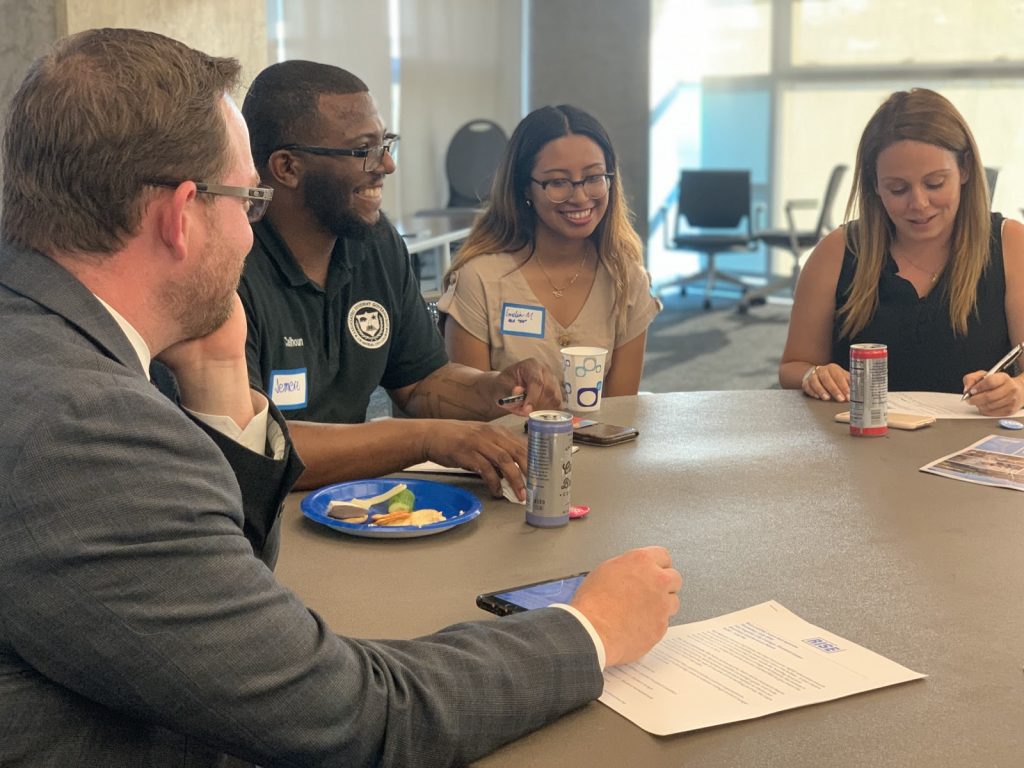 Photos from Rise's first of three town halls at Los Angeles City College
As we continued to gather research on the basic needs landscape, we conducted three town halls with more than 100 students, community stakeholders and organizations to brainstorm big ideas to end campus hunger and homelessness. We compiled the list of big ideas< from our town halls and had our community at large vote on the top three strategies. The three strategies that were chosen are:
Los Angeles City College (LACC): Identify existing campus spaces that could be converted into safe, overnight shelters with security and support staff.

UCLA: Demand UCLA invest $1 million more dollars in establishing on-campus emergency shelter for homeless students.

Pasadena City College (PCC): Align financial aid enrollment with the CalFresh application so that students can auto-verify their eligibility and don't have to go to the DPSS office separately.
---
II: Implementation Phase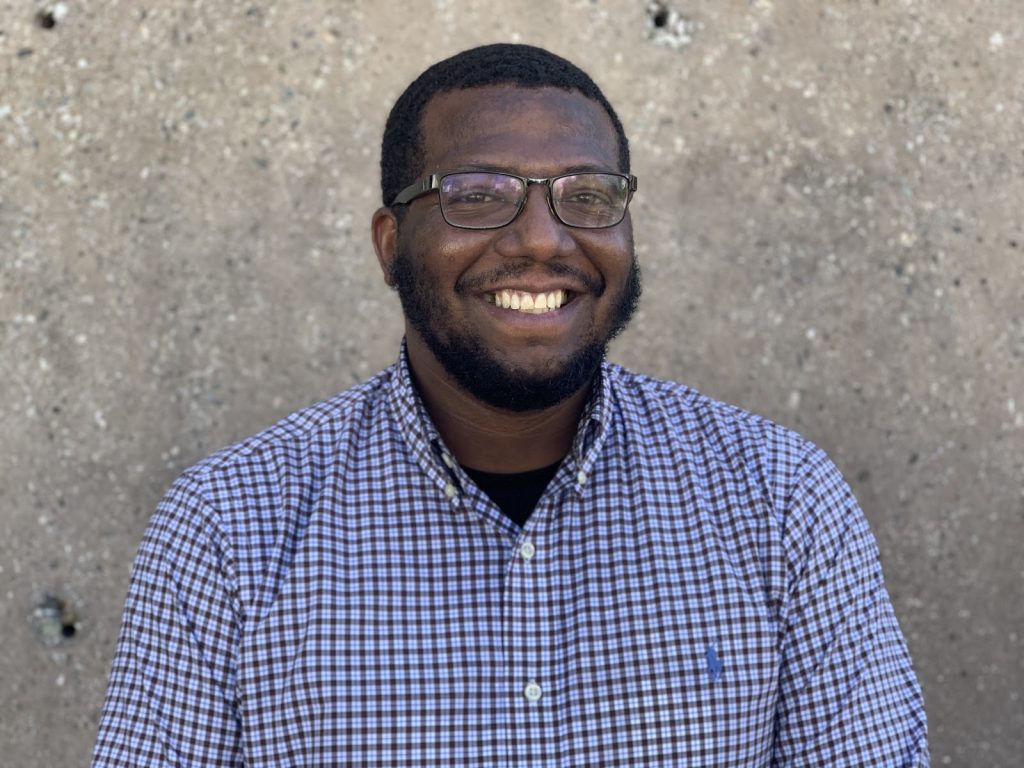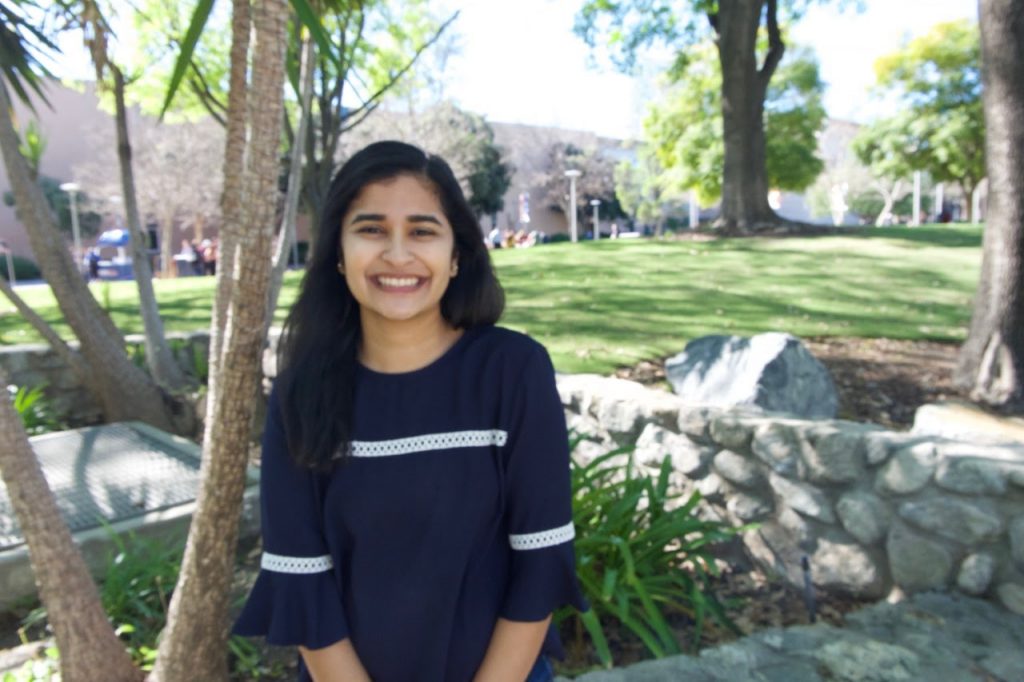 Picture 1: Jemere Calhoun, Organizing Manager of Los Angeles City College
Picture 2: Saba Ansari, Organizing Manager of UCLA, Pasadena City College, and Los Angeles Trade Tech College
In the fall we hired two co-organizing managers to run the three chosen campaigns: Jemere Calhoun, the Associated Student Government President at LACC, supervised LACC, and Saba Ansari, a 4th-year student (now graduate) at CSU Fullerton, supervised UCLA and PCC. Both Jemere and Saba had extensive organizing backgrounds. Saba's previous experience includes serving as the ASI Vice President and ASI Chief Governmental Officer on her campus championing student voices and advocating for equity and accessibility. Jemere's experience in organizing began in 2005, as an employee of a non-profit property management company located in the Skid Row area of Downtown Los Angeles, where he recognized the need for advocacy for housing, food insecurity and for the rights of all disenfranchised and marginalized people. This led him to become an outspoken member of the Los Angeles organizing committee, a big part of the Fight for 15, which was a nationwide campaign to increase the minimum wage and advocate for the rights of retail and fast-food service employees.
In September, Saba and Jemere hired the first cohort of LA2050 student organizing fellows, spread across the three campuses, to build these advocacy campaigns from the ground up. Our student organizing fellows created petitions, built relationships with like-minded on-campus groups, met with campus administrators and gathered hundreds of petition signatures through tabling and attendance at on-campus events.
Below are more campus-specific updates and challenges from the first semester of these campaigns:
Los Angeles City College Campaign:
Tirnom Nchom and Allie Rehm Kashaka, LA2050 Student Organizing Fellows at LACC
Going into this campaign, we knew that the LACC administration had already refused to move forward with an existing plan to use a campus parking lot for overnight shelter, voicing the need for an approximate $50 million grant in order to cover security and insurance issues. Given the parking lot plan was stalled, we identified the women's gym as another underutilized space that could be converted into an overnight shelter at a lower cost. Our team worked to build support on campus by partnering with other on-campus groups focused on homelessness and collected 645 petition signatures. The LACC Associated Student Government also endorsed the petition, raising the legitimacy and urgency of the campaign with administrators.
We anticipate that the emergency shelter would directly impact 50-100 at one time, and would be a step in the right direction in combating housing insecurity on our campus.
UCLA Campaign: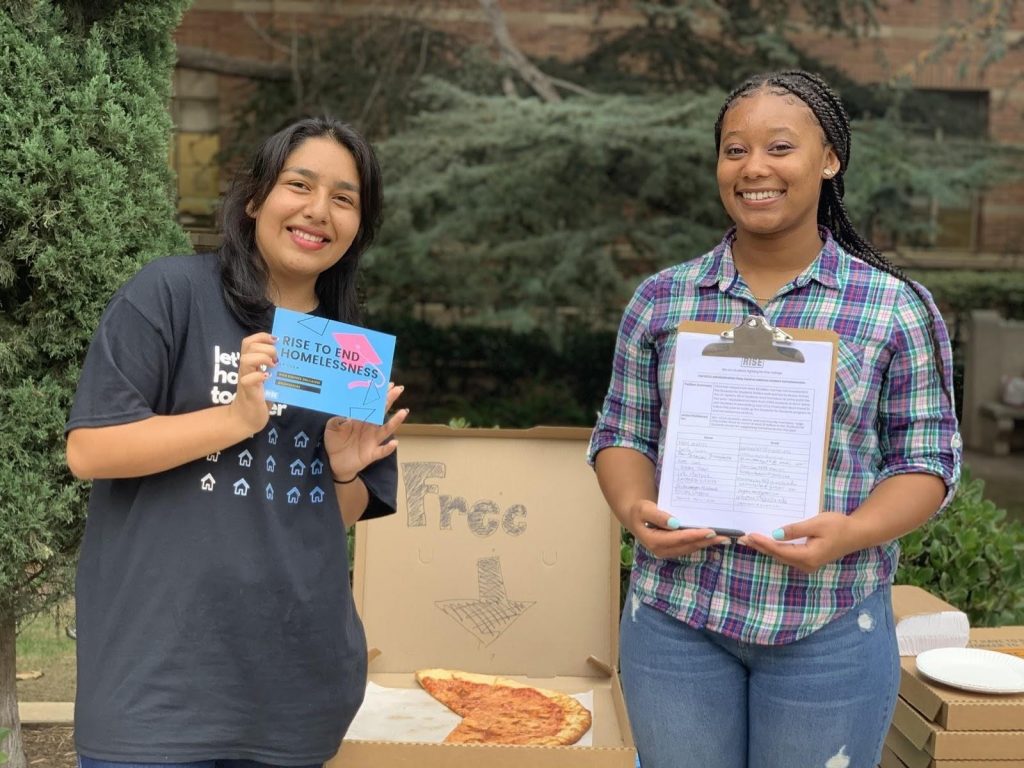 Marlene Lopez and Ariyana Moseley, LA2050 Student Organizing Fellows at UCLA
Our ask of Chancellor Block to invest $1M in a student-run homeless shelter on-campus is bold, but achievable considering  context of UCLA's $5 billlion endowment. However, given the administration's prior decision to not support or fund the UCLA student-led shelter, Students 4 Students, our hope is that the power of student organizing this time around will gather the momentum and awareness necessary so that UCLA's administration can't say no.
Our team of 4 organizing fellows built a solid foundation for our campaign, collecting 860 petition signatures in the first semester and forming partnerships with other basic needs-focused organizations on campus like Cafe 580 and Bruin Dine. Our fellows began meeting with administrators as well, including UCLA's Dean of Students. However, in the meeting it was clear that the administration is still in denial of the homeless problem on campus.
Nonetheless, momentum for the campaign grew as The Daily Bruin's Editorial Board published this article in December and another article about our students' work in early January.
We anticipate that the proposed on-campus, student-led shelter would directly impact 30-50 students per year at UCLA, but UCLA's investment would send a signal to other well-endowed institutions that they should start dedicating significant resources to address the issue of student homelessness on their campuses as well.
Pasadena City College Campaign:
PCC was initially an uphill battle for our team. While it was a slower start than Rise's other LA2050 campuses, since December we hired a team of 3 strong student organizers. Together, they have quickly caught up on petition signatures, and collected almost 1,000 signatures in the span of 3 months. Our student organizers also began developing relationships with the student services and financial aid offices to further our goal.
We anticipate that the direct impact of using financial aid data to verify CalFresh eligibility would be an additional 2,500 students enrolled. Our hope would be that PCC could be a model for all public colleges in California looking to address their students' food insecurity through CalFresh enrollment.
---
III: ITERATION PHASE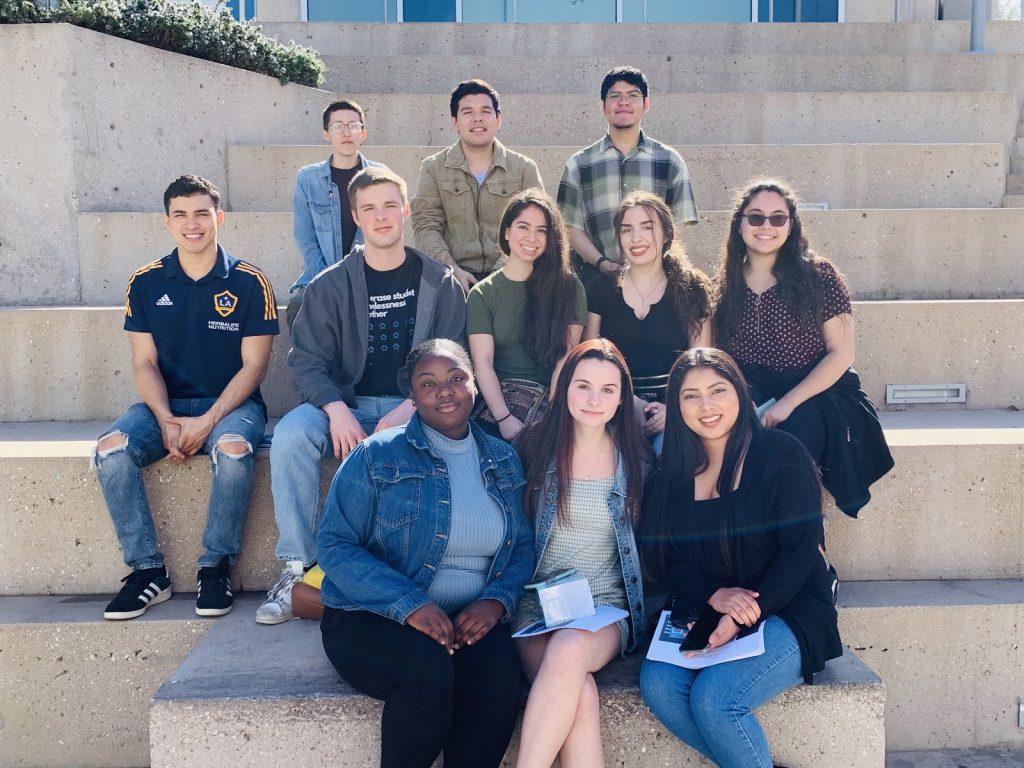 LA2050 Student Organizing Fellows at Rise's Second Semester Orientation
At the beginning of this phase we hired ten new student organizers and brought on an additional campus, Los Angeles Trade Tech College. We also conducted an LA2050 student organizing fellow orientation in January to center all of our fellows around Rise's mission and the campaign goals at each campus.
Los Angeles Trade Tech College
Our Los Angeles Trade Tech organizers decided that the most impactful campaign they could build would be to urge administration to install a permanent food pantry on campus. Although LATTC serves among the most financially needy students in Los Angeles, the campus only had a "pop-up" food pantry available to students once per week. Our three talented organizers collected over 800 signatures in the span of months, and engaged in multiple conversations with administration to start identifying underutilized space on campus that could be converted into a permanent food pantry.
The Effects of COVID-19 on Our LA2050 Work
The coronavirus has had devastating effects on college students nationwide. The Los Angeles Times wrote about Rise research showing 17% of students surveyed from 120+ institutions across 30 states lack safe and reliable housing, and 28% lack access to healthy meals. Since Los Angeles college campuses closed their doors due to COVID-19 in March, our organizing tactics and strategies have had to adapt, as have our goals for what is possible this school year. Instead of engaging with students on campus and in classrooms, our student organizers have begun conducting outreach to professors, clubs and students via email and social media to continue building support around our basic needs campaigns digitally.
Over the past nine months, we have learned that there is a need for multi-year advocacy to build support and put sufficient pressure on campus administrators to take action. Our student organizing fellows will finish off the year with strong student support across all campuses, and as we apply for a second LA2050 Challenge Grant, we hope to create a more scalable and sustainable training and organizing model to continue this work.
To receive email updates on how you can support our LA2050 Challenge Grant application, sign up here. To learn more about our efforts to help students who have been affected by the COVID-19 crisis, click here.
---
LA2050 Advocacy Corps
Class of 2019 - 2020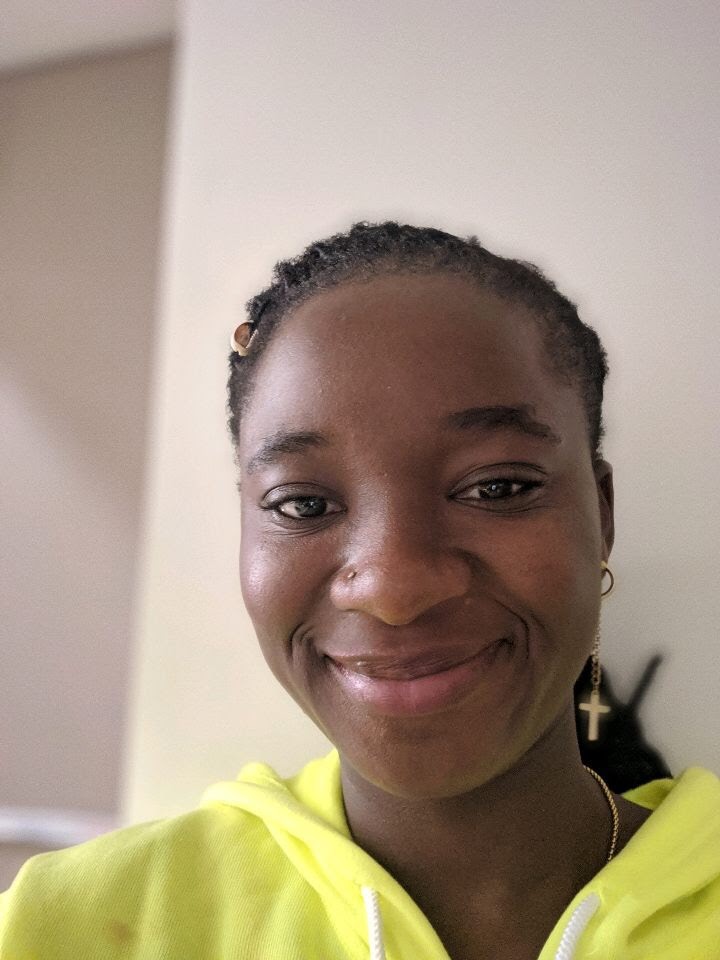 Allie Rehm Kashaka
Allie Rehm Kashaka is a student at Los Angeles City College; majoring in International Relations. Her goal is to transfer into the UC system in the Fall of 2020. Allie is passionate about serving her community and has served as a board member for the Associated Student Government, where she executed fun and interactive events throughout the year. She is now spearheading a club (Student Homeless Action Coalition) to help provide resources for homeless students on her campus. Besides being of service to others, she enjoys her time hiking, thrift shopping, cooking, and spending quality time with friends and family. Fun Fact: Allie is adopted.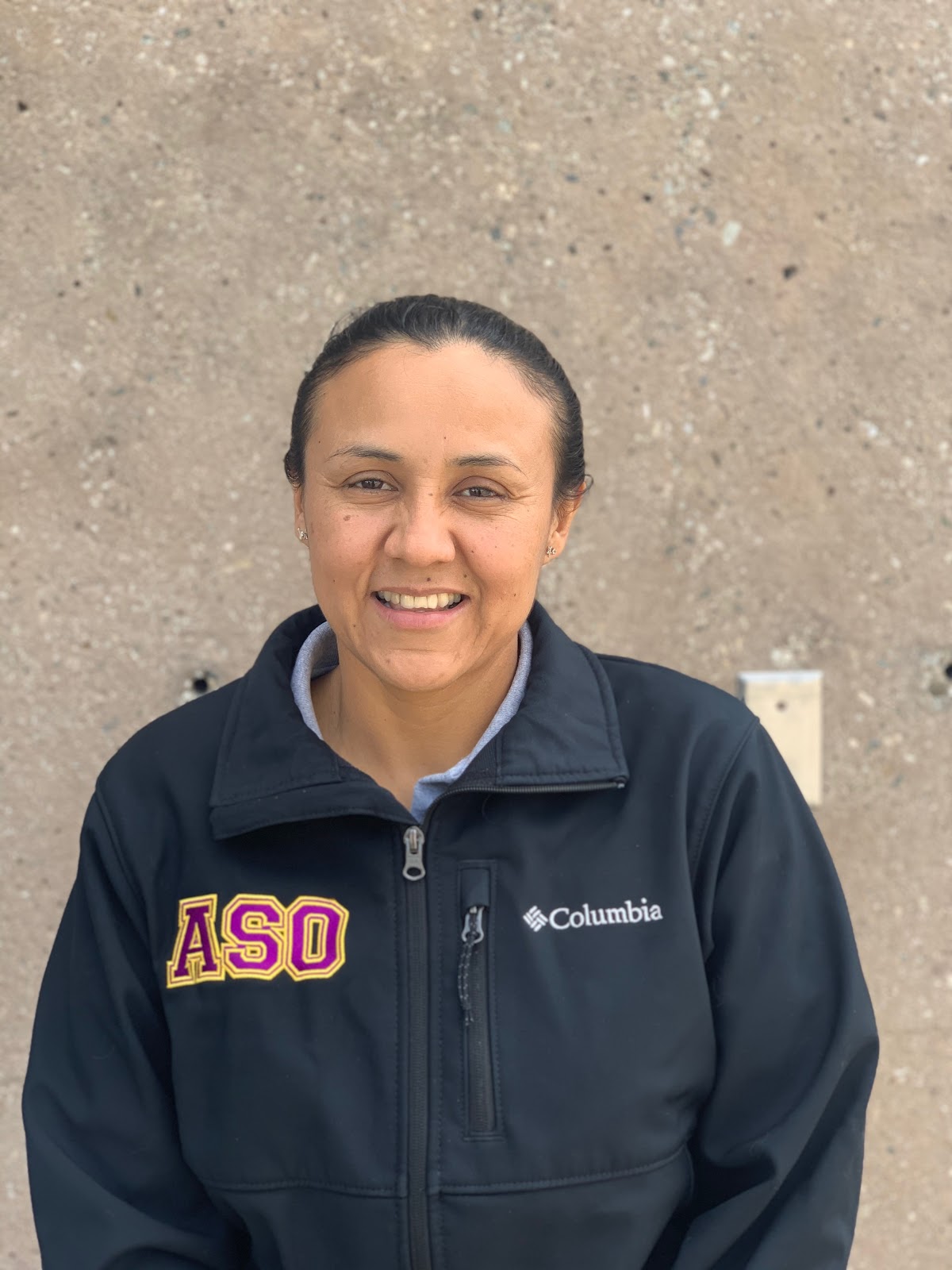 Ana Hernandez
Ana Hernandez attends Los Angeles Trade Technical College and is majoring in Nursing. Currently, Ana serves on the LATTC ASO Board (Student Government) as the Parliamentarian. As a student advocate for DREAMERS, AB540 and undocumented students, Ana has had the opportunity to do a lot advocacy work with CHIRLA on and off campus to defend DACA. Additionally, Ana continues to volunteer at the St. Francis Center to execute distribution of the Food Pantry at their L.A. location and at her college campus.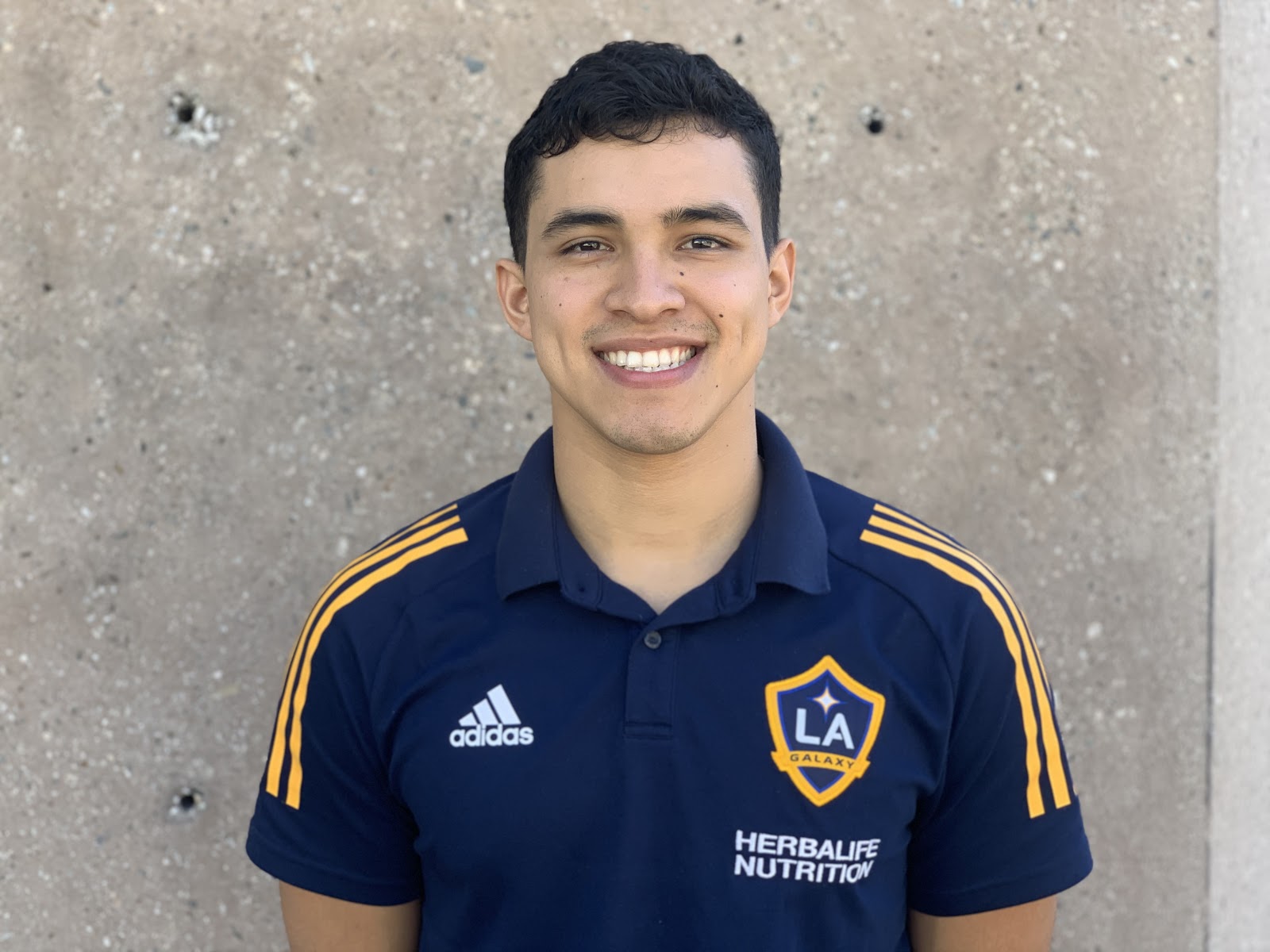 Andrew Castillo
Andrew Castillo is a 4th year undergraduate at UCLA, majoring in Political Science with a minor in Chicanx Studies and Public Affairs. After graduation, Andrew would like to continue school and get a Masters in Public Policy.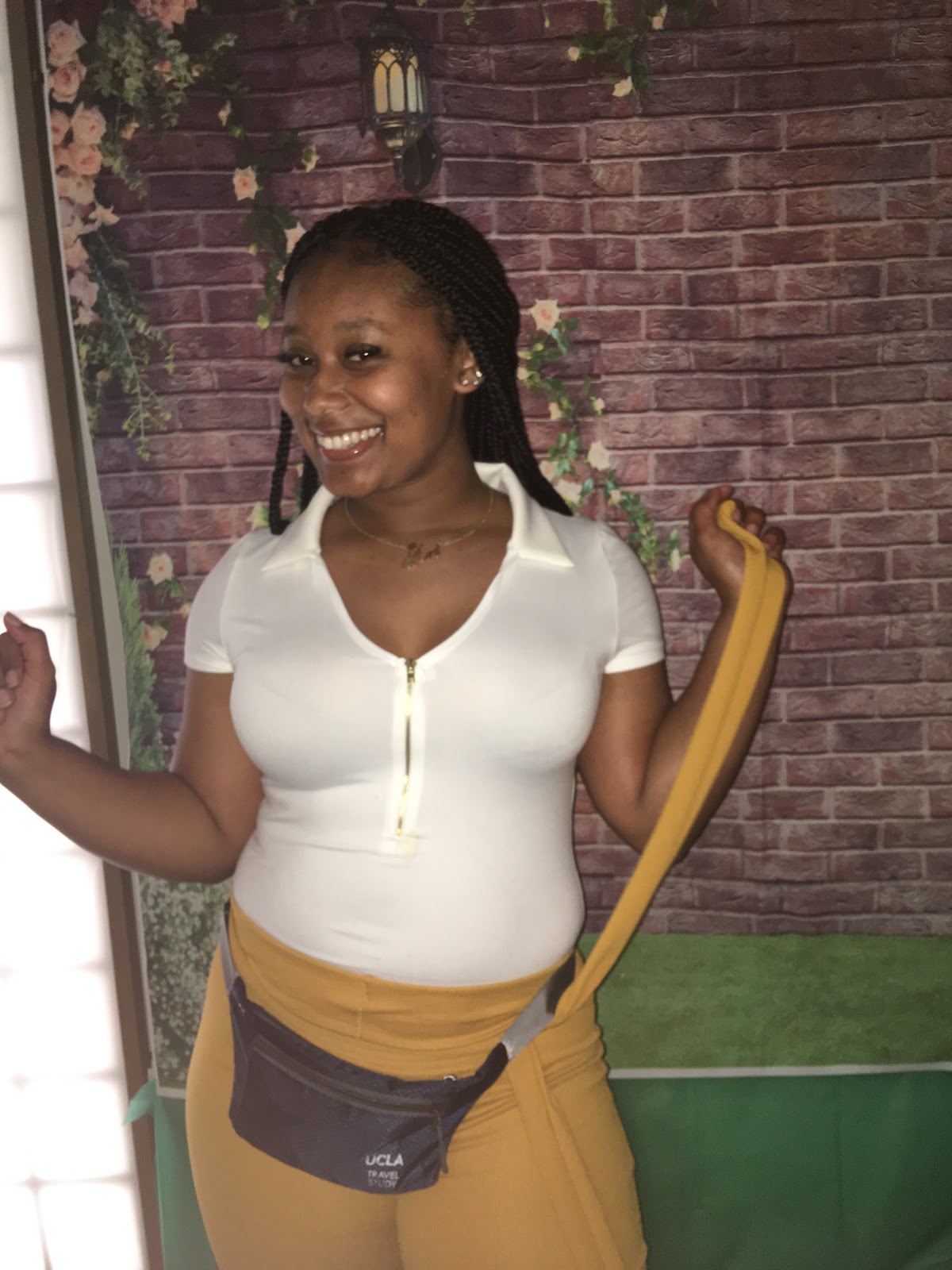 Ariyana Mosley
Ariyana Mosley is in her second year at UCLA pursuing a Bachelors in Public Affairs. Known as Ari to most, she has worked with the California Charter School Association as a young organizer and also within her community back home as an ambassador for the Heads Up Program and College Track. As an Oakland native, Ari has seen homelessness all over her city and recognized a pattern once she arrived to UCLA so beginning her first year as an official student organizer is showing a brighter future for homeless students.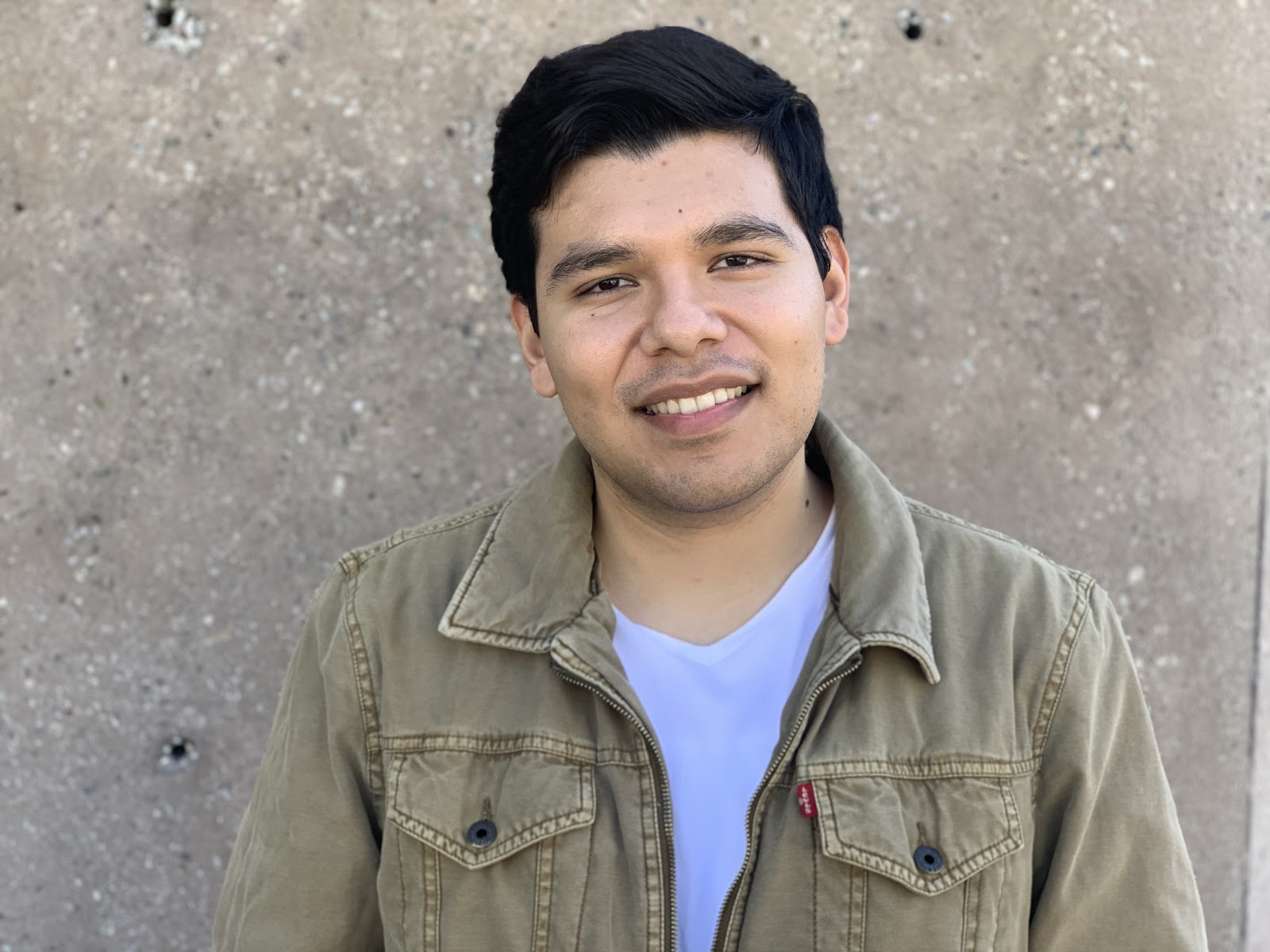 Cesar Robelo Lara
Cesar Robelo Lara is a Comparative Literature major and co-president of the Queer and/or Trans People of Color Collective at LACC. He is passionate about centering marginalized identities through storytelling and art installations. His main goal is to create more awareness on college homelessness and hunger by devising team plans that would help those student populations.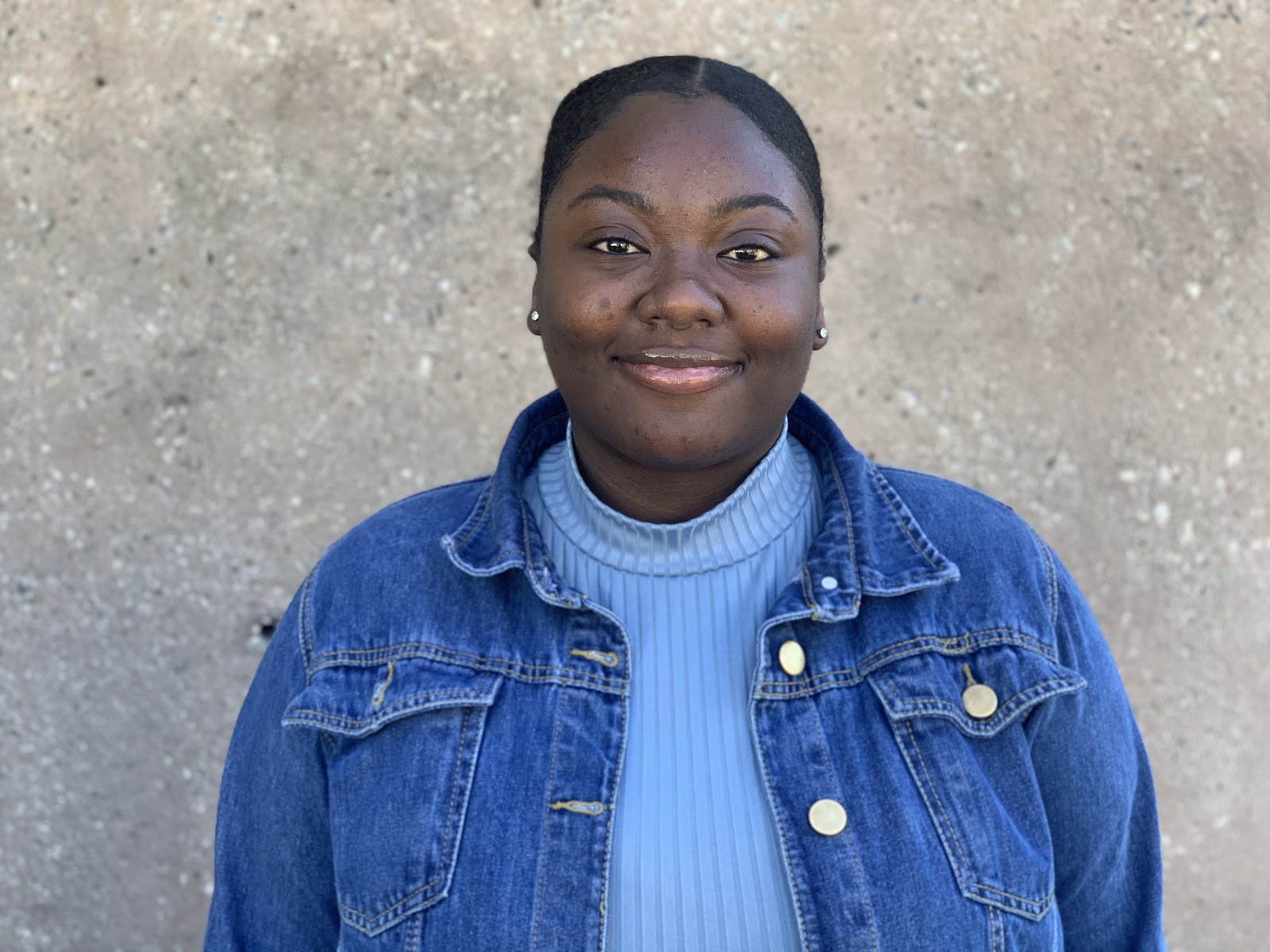 Crystal Hammond
Crystal Hammond is a student at Los Angeles City College, pursuing a major in Computer Information Systems. She participated in the American Federation of Teachers-Local 1521 Internship,which highlighted labor studies, student advocacy and community organizing. Throughout the program, she met other students who were also passionate about advocacy outreach and policy research, inspiring her to join the Rise team. Her goal is to encourage students to utilize their voices and promote positive change within communities.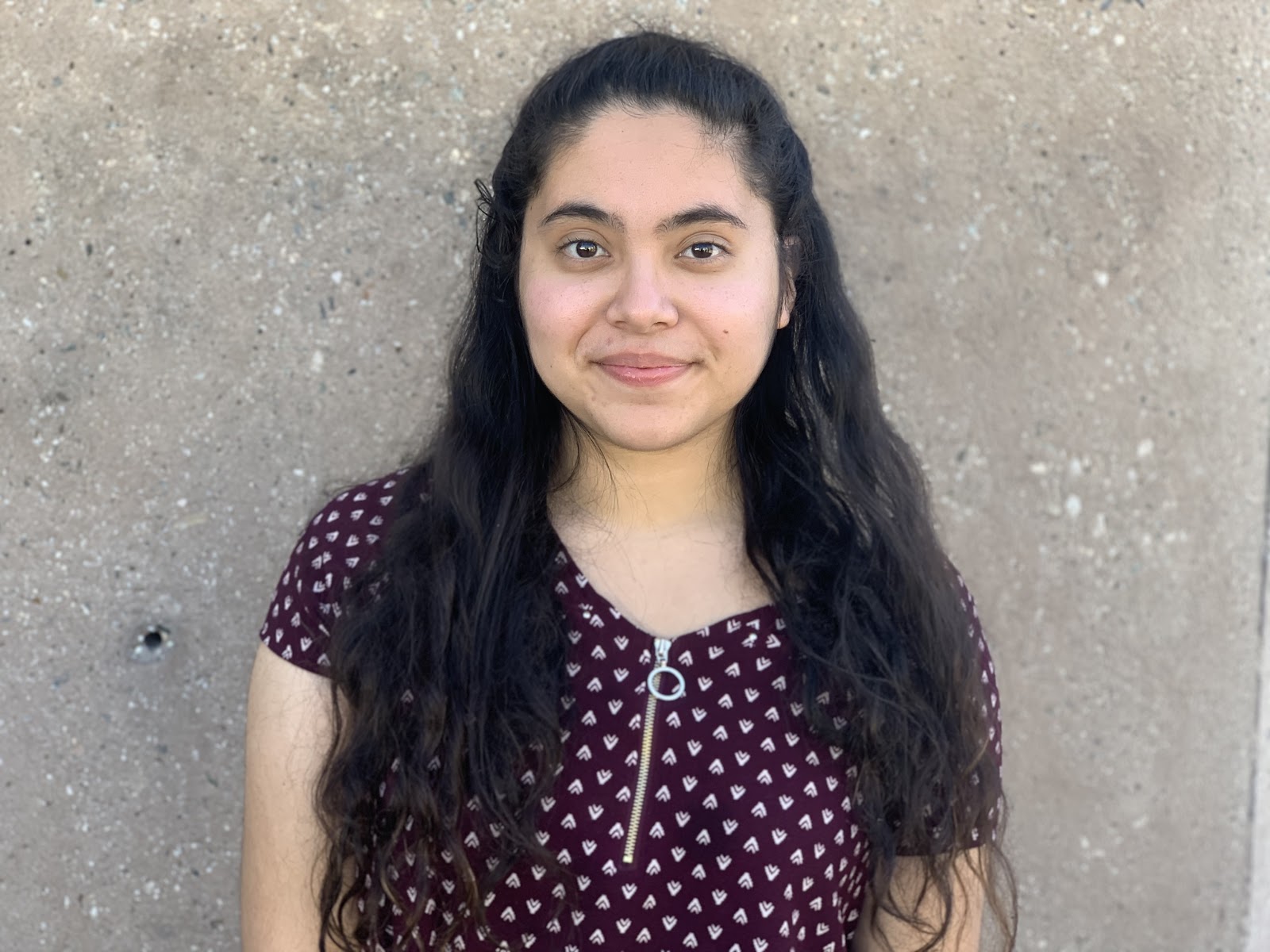 Danielle Williams
Danielle Williams is a first year student at Pasadena City College who plans to transfer to university in the fall of 2020 and further her studies in human biology. Danielle has a deep passion for helping others and bringing joy to the community. She is involved in her school's community outreach club that volunteers at multiple homeless shelters, food banks, and even retirement homes.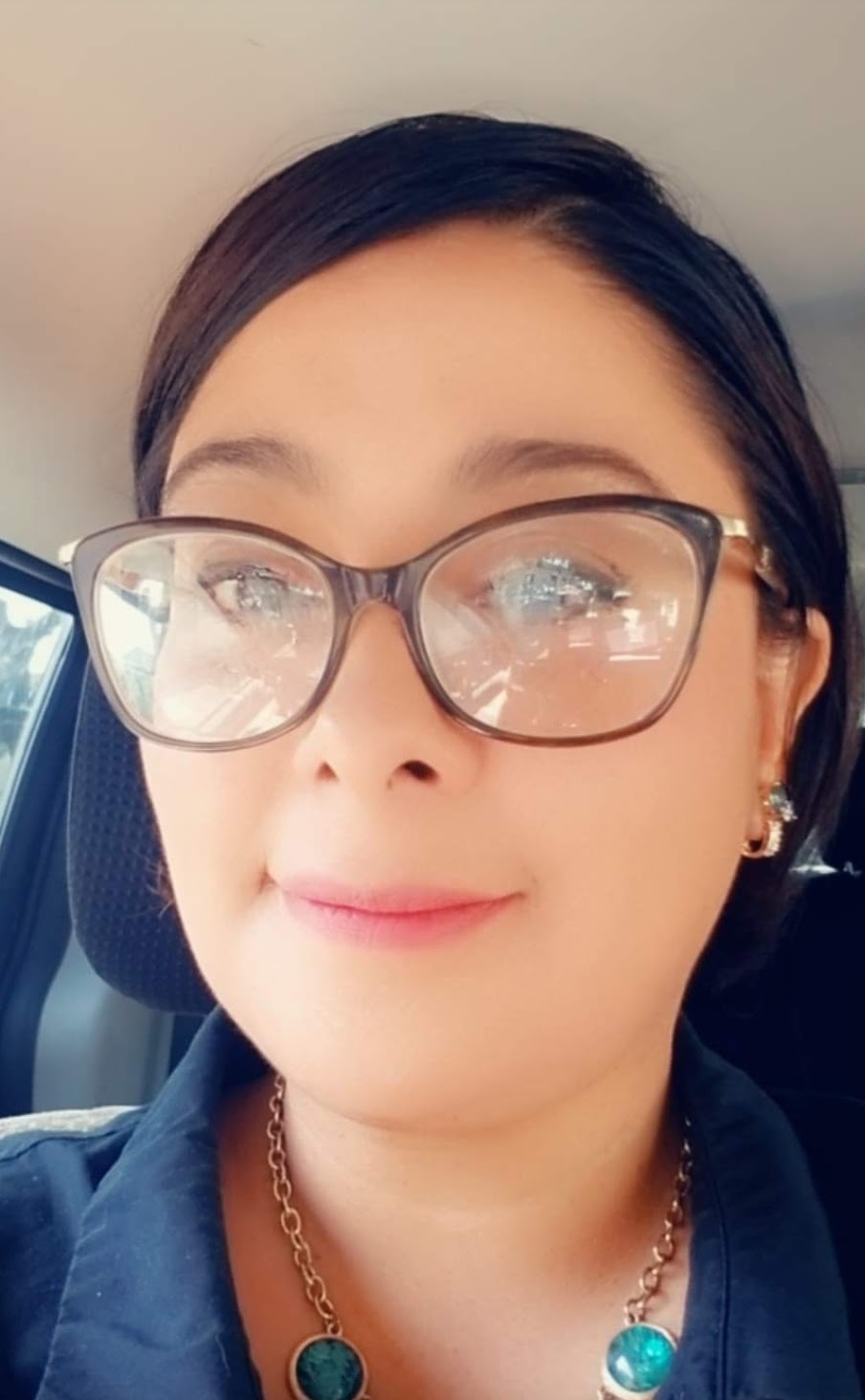 Flor Rios
Flor Rios is an avid community advocate with a strong belief in equitable education, accessible legal services for all, and a people centered approach to problem solving. A founding member of Inglewood bonsai, a paralegal volunteer for The Los Angeles Legal Aid Foundation in Inglewood, CA., and a single mother, she is a proud LA Rise 2050 fellow at LA Trade Tech College.
Milani White
Milani White is currently a freshman at UCLA, double majoring in Public Affairs and African American Studies. Post graduation she plans on spending 27 months (approximately 2.5 years), as a Peace Corps volunteer, and then seeking her Master's degree in Real Estate Development at NYU. Her passions consist of community service, giving back to my community in any way possible, teaching, baking, and watching movies.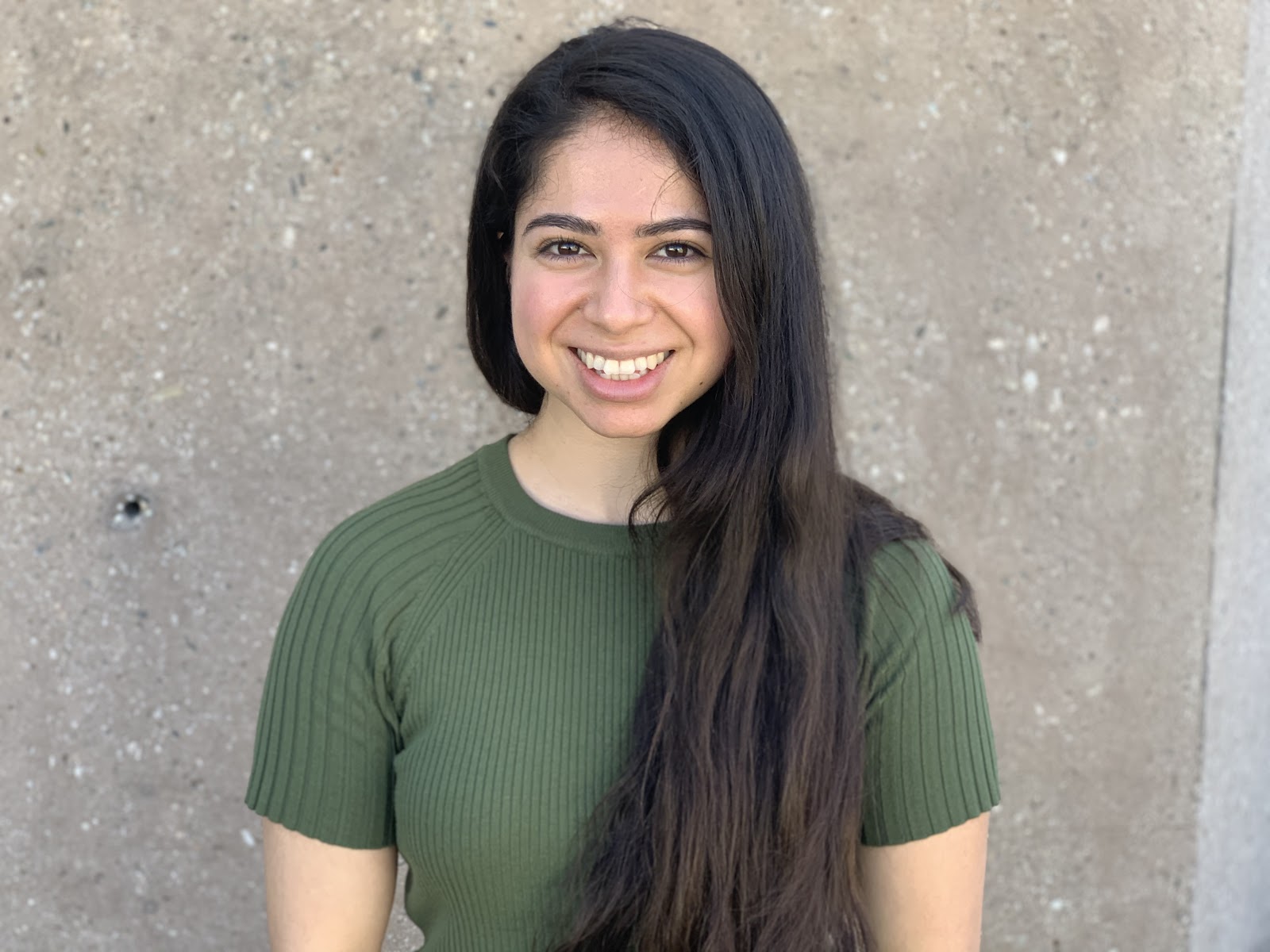 Gabriela Magaña
Gabriela Magaña is a 3rd-year transfer student at the University of California, Los Angeles. Gabriela is currently pursuing a major in Sociology and a minor in Public Affairs. She hopes to earn a Masters in Public Policy in order to further fight for social reform.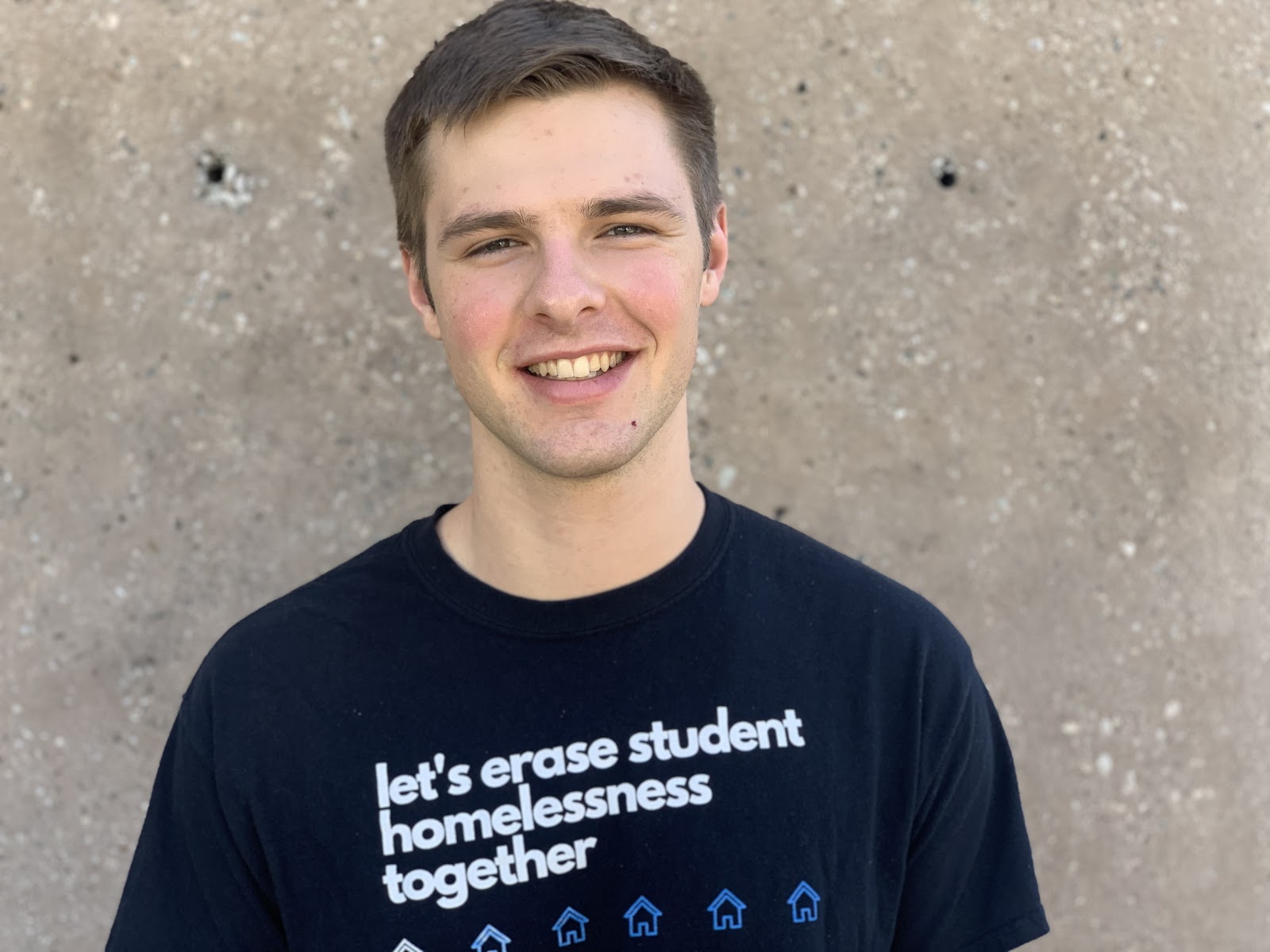 Matt Bodo
Matt Bodo is a 21 year old student from Foothill College, beginning his first year at UCLA as a transfer majoring in Linguistics and Psychology. His passion for college affordability comes from having been homeless for nearly two of the three and a half years he attended community college, living in his car during that time. Despite working full-time he still could not afford to pay rent. He devotes his free time to supporting homeless college students through advocacy work and working with college administration to increase support for these students. At UCLA, he plans to continue the work he began in the Bay Area, partnering with Rise and other LA based non-profit organizations to end student hunger and homelessness.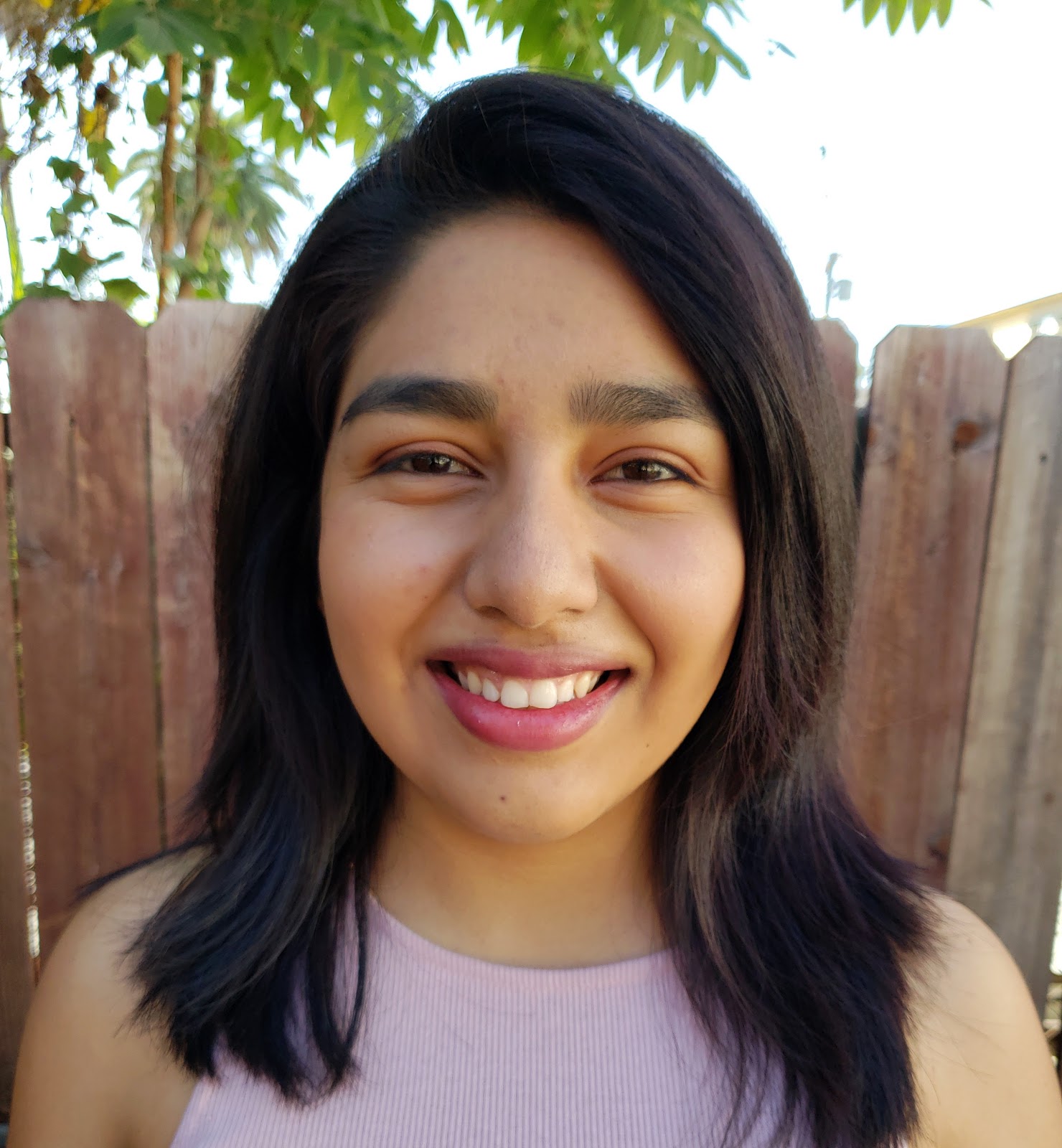 Marlene Lopez
Marlene Lopez is a third year UCLA student majoring in Korean and English. She is a DREAMer born in Juarez, Chihuahua and raised in Boyle Heights, Los Angeles. With a strong passion for helping others, Marlene has done various volunteer works centered primarily around education, a career she hopes to pursue. She enjoys playing tennis, hiking, and has recently developed an interest in photography.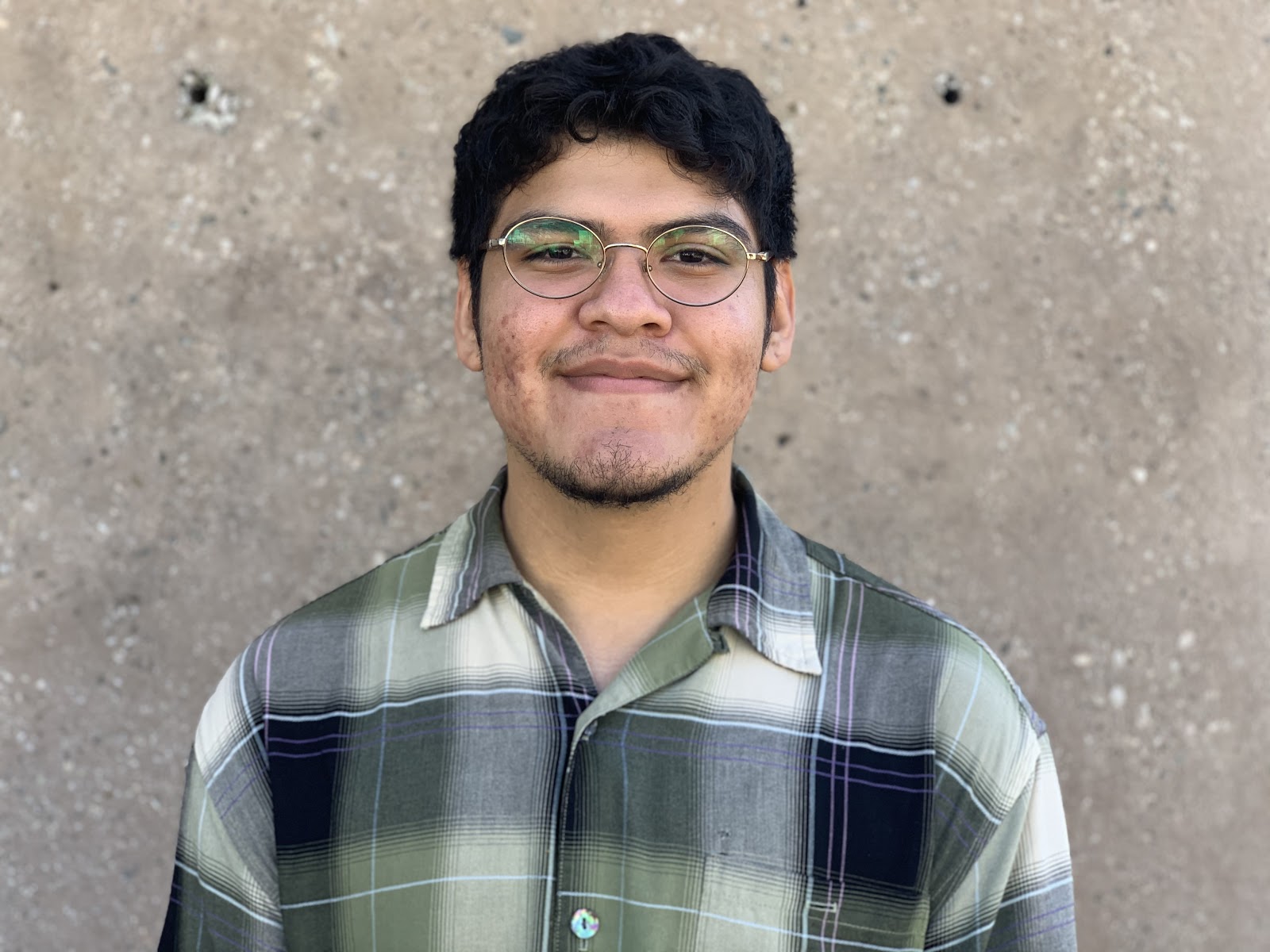 Michael Aguilar
Michael Aguilar is a freshman at LACC, studying the Arts and set on becoming an art teacher. He's enjoyed activism since middle school, and throughout his high school has pushed initiatives like ending random searches, Know Your Rights training, and advocating for undocumented students.
Rachel Coventry
Rachel Coventry is a 1st-year student at Pasadena City College. Rachel plans to transfer to a university in the fall of 2020, where she will continue her studies in Marketing and Political Science. Rachel has a deep passion for advocacy and serving her community, with her previous experience including working with the Pediatric Trauma Program on an international level, as well as serving on the Pasadena City College's Associated Student Board.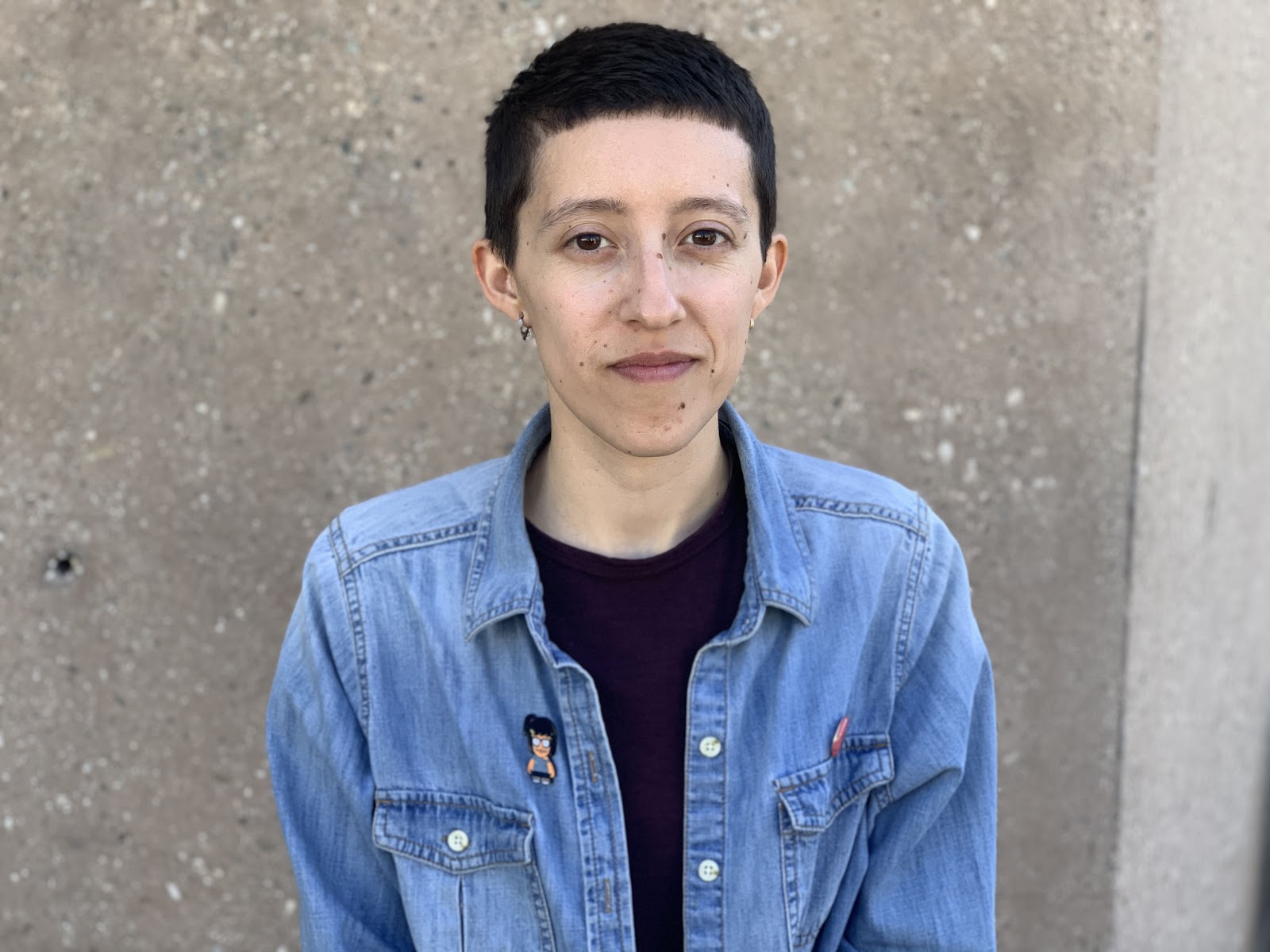 Rox Contreras
Rox Contreras is a Cinema major at LACC. A first generation Mexican-American student, they aim to help others share their stories through means of visual arts. Rox believes in the importance of representation. They have a strong personal connection and passion to assist other students suffering from food and housing deficiencies.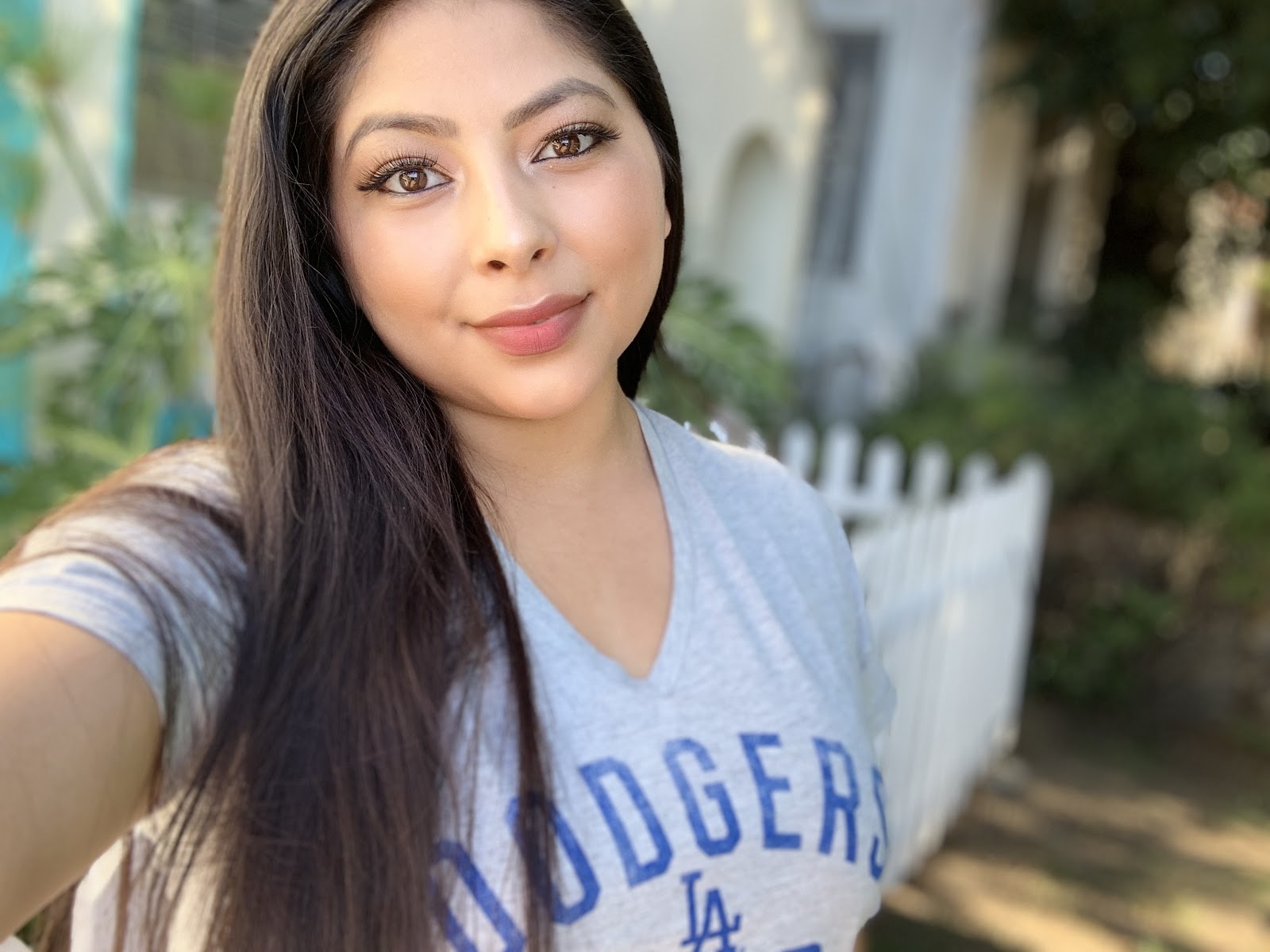 Teresa Avalos
Teresa Avalos is in her third year at Pasadena City College and is pursuing her certificate to be a radiology technician. After her certificate for radiology, Teresa would like to pursue a certificate in cosmetology. During her first year of college she didn't know what to expect at PCC. When she started PCC she didn't know there was financial aid so she paid for her classes, transportation etc. Once she found out about it, she applied for financial aid and work study, which helps students get jobs at PCC while also taking their classes. Teresa was able to work for Student Equity her first year of college, then started working at Lancer Pantry her second and third year. Working those jobs helped her gain confidence and open herself up to others. Working for Lancer Pantry and seeing different students every day helps her connect with students and let them know it's okay to ask for help. Teresa is excited to see what the future holds.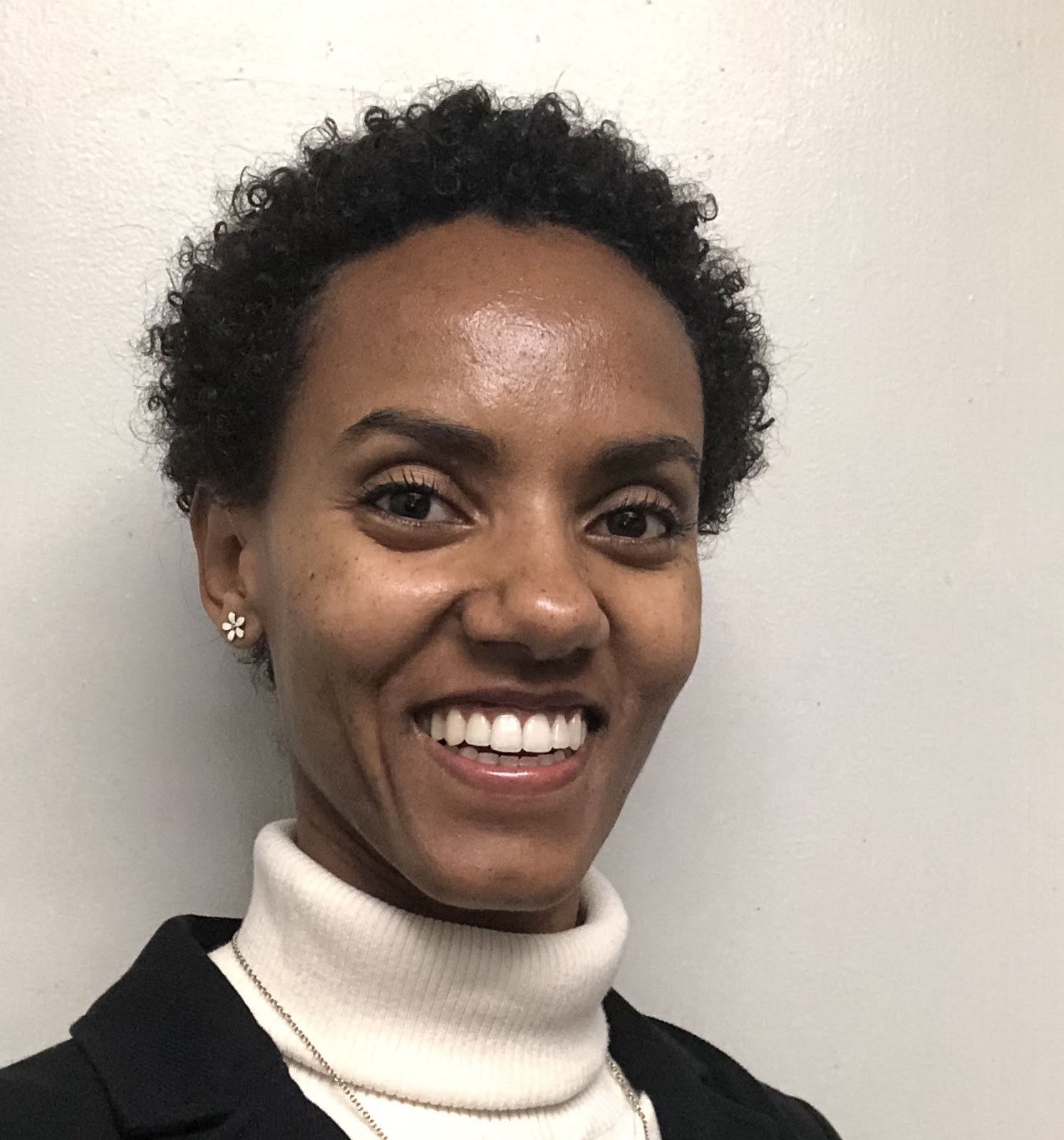 Tirnom Nchom
Tirnom Nchom is a freshman student at Los Angeles City College, majoring in political science and focusing on transferring to the UC system. Tirnom is from Northern Nigeria. Tirnom loves meeting new people and listening to Afrobeats. Tirnom has volunteered in Liberty Promise, an organization that helps immigrant students in high school. Tirnom is very enthusiastic about the development and well-being of the people. Tirnom is very concerned about the issues of inadequate education, injustices, and environmental predicament, especially in rural communities which is why she decided to focus on political science as a major, to learn, grow personally, and contribute to society. Tirnom hopes in the next few years she will be able to exploit and promote what she has learned.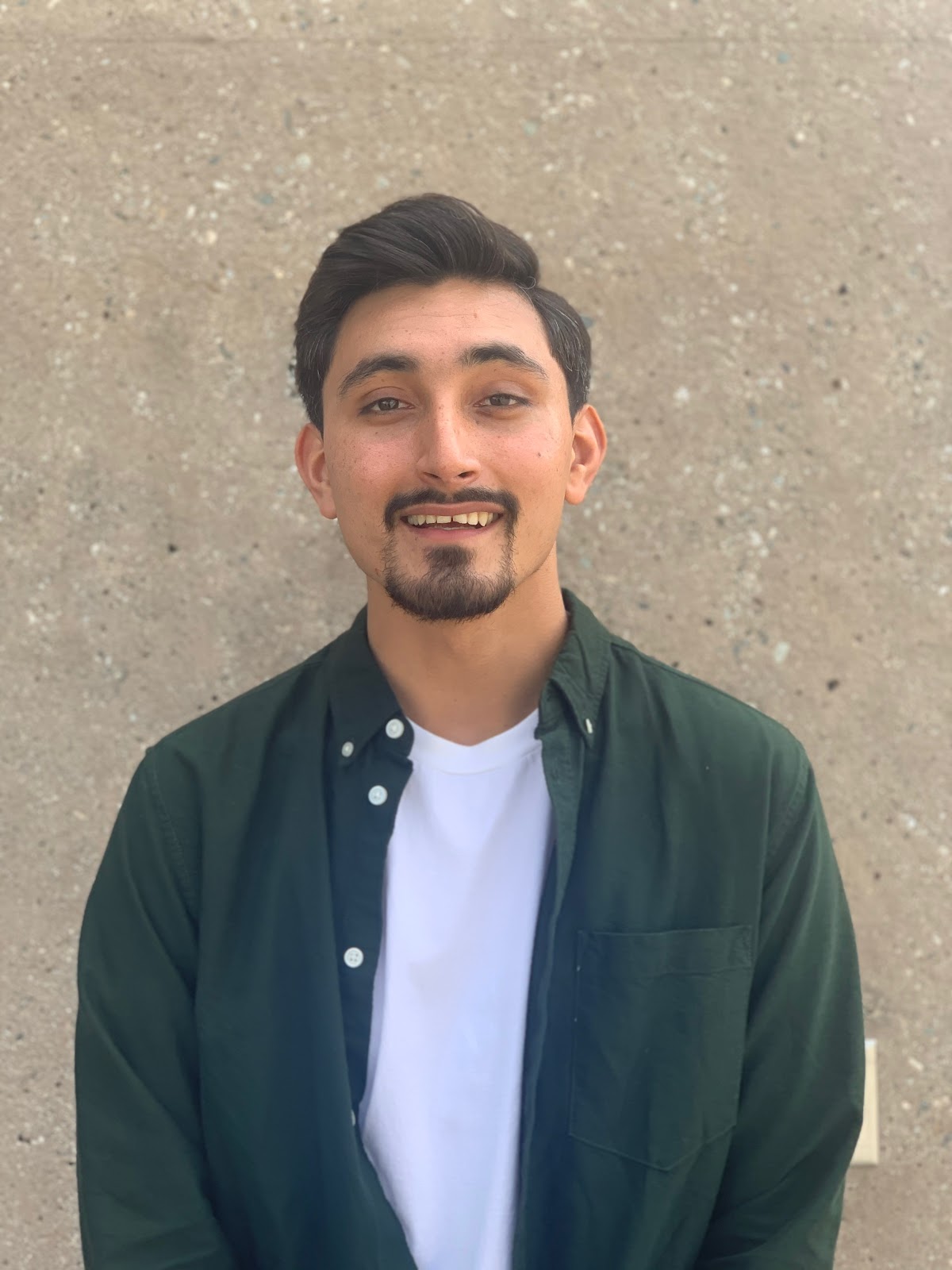 Victor Melendez
Victor Melendez is a second-year student at Los Angeles Trade Technical College. Victor is studying Early Childhood Education and plans to transfer and become a kindergarten teacher. Victor is passionate about serving his neighborhood, Pico Union, for example, for the past three summers he has worked with the LA Mayor's Office on its Summer Night Lights program at Toberman Park. Victor enjoys playing all sorts of sports, going on late-night taco runs, and spending time with friends.