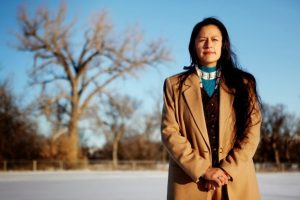 Valentina Merdanian
is the Tribal College Organizing Director at Rise. A member of the Oglala Sioux Tribe, Dr. Valentina "Tina" Merdanian, Ed.D., is a lifelong resident of the Pine Ridge Indian Reservation. Dr. Merdanian also served in many capacities throughout her career. She worked for Red Cloud Indian School, Inc. in administration for 15 years then moving the Director of Institutional Assessment and Research at Oglala Lakota College on the Pine Ridge Indian Reservation. Her department is responsible for generating the statistical data for the institution to move forward. Following her graduation from Red Cloud High School, she attended Creighton University and Black Hills State University before graduating from Oglala Lakota College (OLC) with a bachelor's degree in business administration, Master's degree in Leadership and Management and earn a Doctorate in Adult Higher Education from the University of South Dakota.
Believing in the importance of economic development on the Reservation, she helped to form the Pine Ridge Area Chamber of Commerce. She is a resource to the South Dakota Department of Tourism and served in the capacity of lead consultant of marketing and development for Native Discovery, a partnership with the development organizations of South Dakota's three largest reservations – Cheyenne River, Pine Ridge and Rosebud—as they work together to stimulate the largely untapped culturally-based tourism economy. In 2010, she was selected as a member of the first cohort of the Bush Foundation's Native Nation Rebuilders, a two–year program recognizing emerging Native American leaders.
Former Governor Mike Rounds appointed her to the Serve South Dakota Commission for National and Community Service, the SD Department of Education, and the Hagen-Harvey Scholarship Committee. She also served on the Dacotah Territory International Visitor Program (DTIVP) Committee.
Tina said, "I am very much honored to be a part of my family and to assist in the operation of a cattle ranch with my husband, Russ Merdanian of 27 years and continue to reside in the community of Blacktail Deer Creek, where they raised two children and two grandchildren.
Tina continues to encourage all students to work towards completing their education goals. "It is through education we will change the negative variables we live in today," she said.