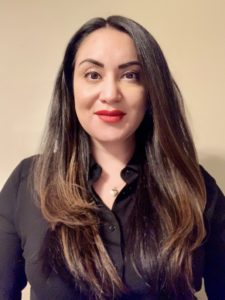 Rebecca Rodriguez (she/her)
was the Deputy Director of the Student Navigator Network at Rise until March of 2023. She is a first-generation college graduate with a master's degree in Counseling, which has undoubtedly contributed to her professional success, and strong passion for, working with diverse communities, underserved populations, and students who themselves are first-generation college students.
For the past 13 years, she has operated within the higher education arena as an Administrator, Director, and Counselor and has a comprehensive understanding in the areas of student retention, academic advising, counseling, recruitment, outreach, and admissions.
Rebecca is a Board Member of the Child and Family Guidance Center which provides counseling services, and family supports to Connecticut residents regardless of their inability to pay. She is also the Board Secretary for Beta Sigma Alpha, Sororidad Latina Inc., a nonprofit service organization that provides guidance and support to Latinas in pursuit of higher education. For the past four years, Rebecca has served as an adjunct faculty member at Housatonic Community College, where she taught Freshman Seminar. A course designed to provide first-year students with the essential academic survival skills and tools needed to establish and achieve their academic and career goals.
Currently, she is pursuing an Ed.D. Doctor in Education with a specialization in Educational Organization Leadership at the University of Puerto Rico. Having been a student parent herself, her continuous research focuses on supporting college student parents to achieve academic success. Rebecca holds a BA in Communication Sciences from the University of Connecticut and an MS in Counseling from the University of Bridgeport. She is a proud mother of two amazing children and a French bulldog, Lola.